HOME > SUCCESSES
A successful project requires carefully crafted strategies and tactics. Simply purchasing products and services and installing them does not assure success. pcQuestions has seasoned project professionals who are not only masters in technology but also trained in business strategies.

RETURN ON INVESTMENT
Quantifying the return on investment for IT Services is essential for your business. The ability to utilize IT assets to generate real value for your business is a challenge. pcQuestions will help you make a sound business case when implementing IT Solutions.
INCREASED PRODUCTIVITY
Not only is it critical for businesses to utilize technology to increase productivity, but by not utilizing technology competitiveness can decrease year after year.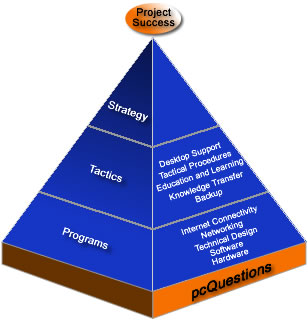 Some of our successes include:
Consumer Products
Sears

Technology
IBM

Real Estate & Mortgage
Vermillion Consulting, Inc
KrisWilson.com
KateWilson.com

HR/ Benefits
Wonderlic, Inc.
Manufacturing
Arpac Group
VWR International
Greatlakes Gelatin

Healthcare
Baxter, Inc
Caremark, Inc